How It Works
Connect with concerned citizens and become more self reliant. Understand your SITUATION, find your INVENTORY, and create your PLAN
How to Get Started
1
Join
Sign-up for a free account. Join Bunkers and connect with other like minded users. Pursue increased self-reliance together.
2
Create/Share
Create your own SIPs and share your inventory and plans with the community. Or find and file existing SIPs and modify to best suit your needs.
3
Prepare
Track your progress towards full preparedness of your SIPs. Purchase missing items, practice routes and skills.
JOIN FOR FREE
What is a SIP ?
True to our philosophy, we firmly believe that everyone's SITUATION is different, requiring a unique set of INVENTORY and a custom PLAN so you can face uncertainty with confidence. Our SIP tool allows users to craft custom solutions for their unique circumstances. Users can define their situation and criteria, locate, assign and purchase the needed inventory and add additional elements such as map routes.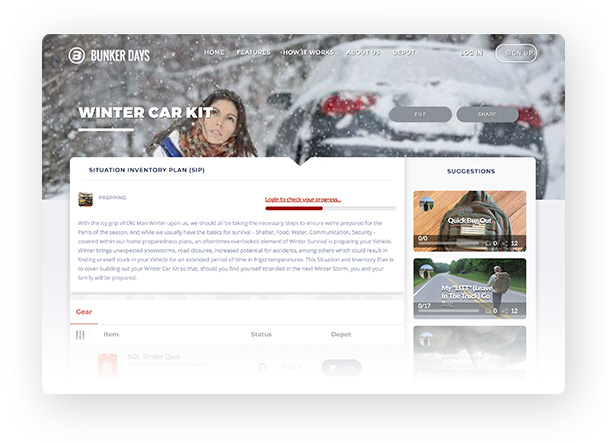 Not sure where to get started?
Don't worry, there are plenty of existing SIP's to get you started. We will check your inventory against the SIP requirements and help you track your progress towards completion.
HAve questions?
Check out our frequently asked questions.
VIEW FAQ's